Long-lost music manuscripts of Ella Fitzgerald, Nat King Cole, and others are being brought back to life through BYUH's new Studio Orchestra
In his typical bright yellow pants, blue shirt and orange sneakers, the conductor of BYU–Hawaii's Studio Orchestra, Daniel Henderson explained how his unique research opportunities as an undergrad and his master's and doctorate in jazz music have come together to make the orchestra's music possible. He said musical manuscripts once thought to be lost, he is now bringing back to life through BYUH's Studio Orchestra and its student singers.
Mila Cutler, a sophomore from Illinois studying vocal performance, said the documents create a connection between her in 2022 to the professional jazz musicians of the mid-20th century. "It helps create the magic of it," she said.
The history behind the manuscripts
In 1942, Capitol Records took the music industry by storm, said Henderson, a music professor at BYUH's Faculty of Culture, Language & Performing Arts. He said almost all of the company's records were Top 10 Billboard Hits. Over the next several years, Capitol Records redefined American pop music, according to Henderson.
The written music for the different parts of the orchestra and voice of these revolutionary songs were put in storage without being photographed or photocopied, Henderson said. There were 800 boxes filled with these manuscripts, he said, and they all got thrown away.
When Capitol Records told the artists their music had been trashed, there was a profound sense of loss, said Henderson, and a wave of anger and frustration rippled through the music industry.
In 2002, Henderson said a student at BYU in Provo found out these manuscripts hadn't been thrown away. The music had been put into storage in a climate-controlled vault in Provo's Harold B. Lee Library. The student cataloged the documents, Henderson explained, and reached out to the musicians to tell them the manuscripts lived. "And that student was me!" he said with a goofy grin.
Henderson said he does not know exactly how the manuscripts got to BYU, but his best guess is the second-tier executive of Capitol Records, Jim Complin, who was a member of the Church of Jesus Christ of Latter-day Saints and had BYU connections, intervened when they planned to throw away the documents. All Henderson knows for sure is someone signed the papers over to BYU as a donation, he said.
Dr._Henderson music ella fitzgerald_Tj-04.jpg
Enkhtuvshin Chimee
Dr._Henderson records_Tj-09.jpg
Enkhtuvshin Chimee
Dr._Henderson_manuscripts Tj-03.jpg
Enkhtuvshin Chimee
How students are learning from archival research
"This is the paper that Ella Fitzgerald held in her hand," said Henderson holding up a yellow-aged manuscript at a BYUH forum he gave on Thursday, Oct. 13.
At the forum, he explained the following Saturday would be the first ever BYUH Studio Orchestra concert. During the concert, he said he would be conducting from and his students would be playing off of the original music manuscripts. "All the notes [on the manuscripts] were written by Hollywood musicians to give us insight into how to play the music like they did," Henderson exclaimed. "It's an amazing thing that doesn't exist anywhere else."
"When I play the French horn, my job is not necessarily just to execute what is on the page," said Henderson. "It is to bring a whole new level of interpretation and nuance to the music. Now I know how Hollywood legends did that."
Henderson said part of his teaching method is to hand his students copies of the documents and say, "'Go study this. Do some analysis. Figure out how the famous musicians made the sounds they did.'"
Thinking about the concert, Henderson said, "It's wildly ambitious and semi-insane what we are trying to do."
1 student sitting on the stage.jpg
Zane Saenz
2 henderson conducting at the concert.jpg
Zane Saenz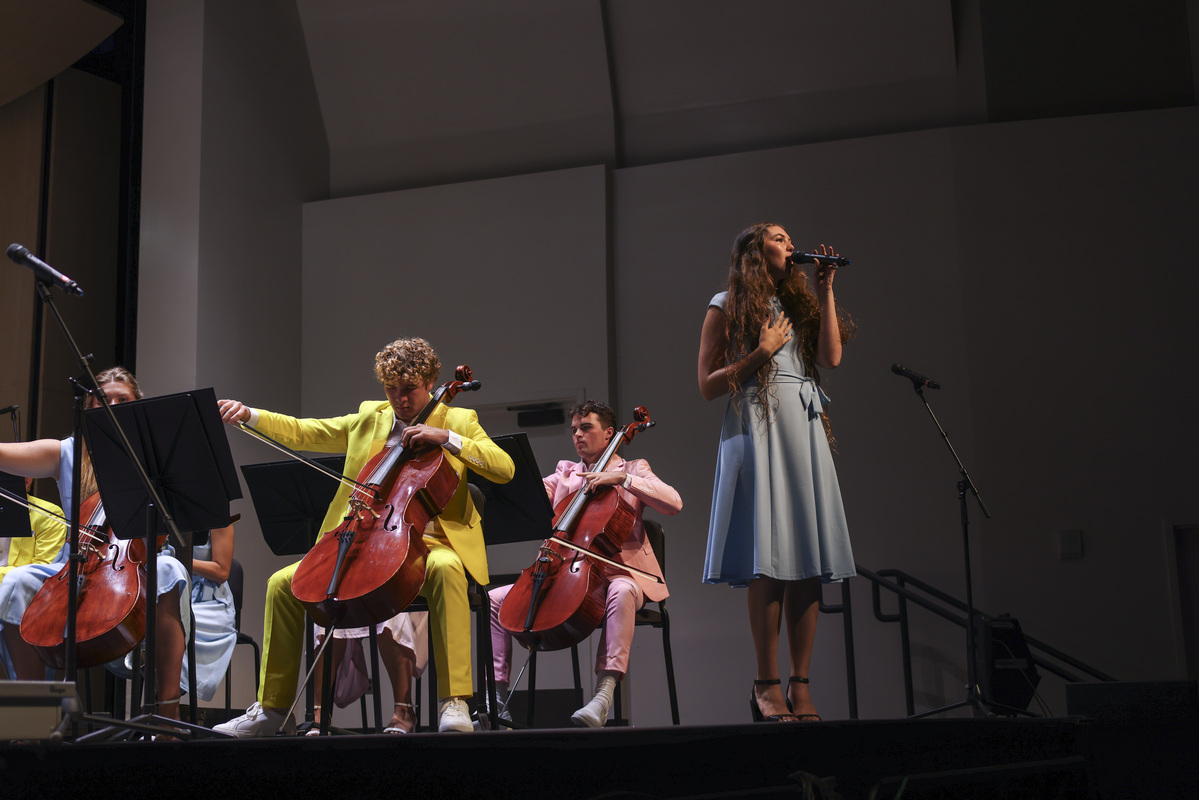 3 girl singing 2.jpg
Zane Saenz
"Laughter + Love Songs"
"Sometimes the best way to deal with the difficult rollercoaster that is love is to laugh,"
said Henderson on Oct. 15 during his first Studio Orchestra concert. Henderson explained, "Many of the greatest songwriters of the 20th century knew that, so they created a whole body of love songs for us to laugh and get through the hard times," which is why the concert was titled "Laughter + Love Songs."
During the concert, Henderson explained one of the reasons why Capitol Records was so successful was due to its cofounder, Johnny Mercer. He described Mercer as one of the most brilliant and funny lyricists in American history. "It takes a special kind of talent to do Johnny Mercer justice, with his deep Southern Georgian humor and drawl. But as soon as I met Dallin and heard him sing, I thought, 'We can do it.'"
Dallin McKinney, a junior studying theater and music from California, had the audience laughing during his song, which told the story of a cheating girlfriend. At one point when there was a break in the vocals, McKinney laid down on the stage. "It was totally impromptu," he said. "I just did whatever I felt like doing. So, I sat on the edge of the stage, and then I was just like, 'You know what? 'Imma lay down right here.'"
McKinney said he loved the contrast the concert had. Talking about the three other singers, he said, "John's voice is incredible, and it's absolutely nothing like mine. Same for Mila and Claire." However, according to McKinney, they are all far from perfect performers. "We made a lot of mistakes. Everyone did," he said, "but nobody realized it because we're just having fun."
Part of the fun included Henderson leading one of his students in bubble blowing during the songs. The bubbles lazily floated over the musicians and into the crowd where children and adults alike jumped up to pop them.
For most of the songs, Henderson explained the archival research behind them. "The Library of Congress has two different versions of 'Blue Skies,'" said Henderson, "and we are mixing them. You will feel like Ella Fitzgerald got reincarnated through the body of Mila Cutler."
"Blue Skies" has a long scat solo section. Scat singing is an early form of jazz singing that uses improvised wordless syllables and sounds, according to the Jazz Academy website. To learn it, Cutler said she listened to a recording of the solo repeatedly to memorize it. "I am not physically capable of singing like Ella Fitzgerald," she said, "so the parts that I could not sing, I filled in with my own ideas."
There was a standing ovation at the end of her performance as Cutler brushed away tears. She said, "I love that song, and then they loved it too. We were all feeling the music as one big group. It was that feeling when everyone is inspired to
4 henderson at the concert.jpg
Zane Saenz
5 guy singing.jpg
Zane Saenz
6 girl singing 1.jpg
Zane Saenz
gether."
During intermission, Henderson encouraged the audience to check out the display in the McKay Auditorium Lobby. He had set up a record player with records to play, laid out manuscripts to look at, and had books to flip through. The concert programs had three trading cards of famous musicians or albums. Henderson explained there were 15 different trading cards and invited the audience to talk to their neighbors and compare cards.
In 1948, Capitol Records released "Nature Boy", said Henderson, a song written by Eden Ahbez who wore strange robes and supposedly lived behind the L in the Hollywood Sign. The song is a philosophy of love, a poem set to an avant-garde, dissonant orchestral texture, Henderson explained, very different from the pop and jazz of the time. According to Henderson the song immediately sold almost 2 million albums and signaled a new era of popular American music. John Zenger, a senior from Idaho studying peacebuilding and music, sang "Nature Boy" at the concert.
Switching moods, Henderson introduced a new jazz artist. "Check out this bio," Henderson told the crowd as he gave background on Mavis Rivers. She was Samoan born, New Zealand raised, BYU [in Provo] educated and "active in a certain church that sponsors this university," Henderson said as the crowd laughed. She went to Capitol Records in 1958 to put out her first album and was nominated for the Grammy Award of Best Artist. Cutler sang one of Rivers songs from her "Four A.M." album.
Most of the music played at the concert had not been performed live since it was originally recorded, said Henderson. He also informed the audience that eight of the musicians on stage were playing instruments they had practiced for less than six months. McKinney encouraged anybody who loves music to join the studio orchestra, no matter their experience.
Cutler said she hopes the ensemble will inspire people to try new things and believe in themselves. "We did something that, in the music world, is historically monumental," she said. "We could've been like, 'Oh, we're just a small school. We can't pull this off.'" After the concert, she said she felt like she could do anything, and she hopes the audience left feeling similarly.
Christmas concert
"Apologies to those of you who are anti-Christmas music prior to Thanksgiving, but musicians don't have that luxury," said Henderson as he talked about how the Studio Orchestra has already started preparing for their Christmas concert on Dec. 2.
Nat King Cole's "Chestnuts Roasting on an Open Fire" is one of the best-selling Christmas recordings of all time, said Henderson. There were three recordings of the song made throughout Cole's career, but they were all the same, Henderson explained, just done with better recording technology.
"As far as I can, tell nobody knows," said Henderson, "that Nelson Riddle, the orchestral master of the time, didn't want it that way." He said Riddle, a composer, wrote a brand-new arrangement for "Chestnuts Roasting" that was never recorded. Henderson believes the producers of the song were scared to change the original composition because it was so popular.
Two different arrangements by Riddle are sitting in BYU in Provo's basement, never having been recorded, said Henderson. "We are going to perform both of them at our Christmas concert, along with the original," he said.